HOW I CAME TO BE WHERE I NEVER WAS
A brand new show, being developed in partnership with Strike A Light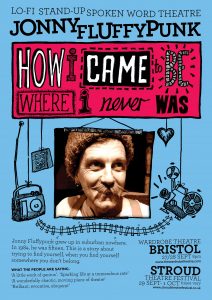 Jonny Fluffypunk grew up in suburban nowhere. This is a story about trying to find yourself, when you find yourself somewhere you don't belong. It's about unrequited love, John Peel and the importance of a good record shop. If that's not enough then there's also stuff about trains and memory and letting go. This is a new lo-fi stand-up spoken word theatre show for anyone who has ever loved, owned a vinyl record or just been alive.
From a humble beginning on scraps of paper at Bristol Old Vic's Ferment scratch season, this show has progressed to a humble mid-development stage on scraps of the poets brain. Once again, the desire is for highly-portable, accessible work that can go anywhere, be it black-box theatre spaces or someone's front room. Anywhere where stories can be shared and human communication achieved. Tied in with the show will be workshops and podcasts, encouraging others to tell their stories and share their lives and go for it, DIY style.
Work-in-progress shows will be popping up here and there. The debut showcase performances- where the flimsy cardboard props have been made from ones of thicker cardboard- will take place in London and Bristol and Gloucester in Autumn 2017, and will be accompanied by free workshops.
MAN UP JONNY FLUFFYPUNK
'Sublime…well-crafted, tender and life- affirming. Highly recommended'
FringeReview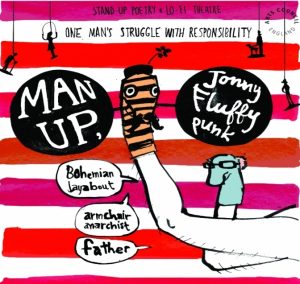 Bohemian layabout, armchair revolutionary and poet Jonny Fluffypunk has become a father. Who is he to shape a young life? Man Up, Jonny Fluffypunk!: Part lo-fi spoken word theatre, part stand-up, part publicly-funded cry for help. Man Up is a funny and poignant little show about big dreams and little victories, about fatherhood and insecurity, about finding the hero within, however unpromising the exterior. A defiant expedition to the heart of the struggle for self-belief, even, armed only with a cardboard suitcase. WARNING: Contains anarcho-syndicalism and amateur puppetry.
After debuting at the Brighton Fringe Festival in May 2014, the show has played in venues as diverse as a Gloucestershire shed, WOMAD Festival and Leicester Square Theatre. Currently scheduling a tour for late spring / early summer 2015. A tour, hopefully, of odd and unusual spaces, taking live art and laughter into garden sheds, living rooms, back rooms of cafes… that sort of thing. If you've got a shed, a living room, a cafe sporting a back room, or anything a few people can squeeze into, without being rained on, then let's talk. Hopefully there'll be funding. And cake.