October 2022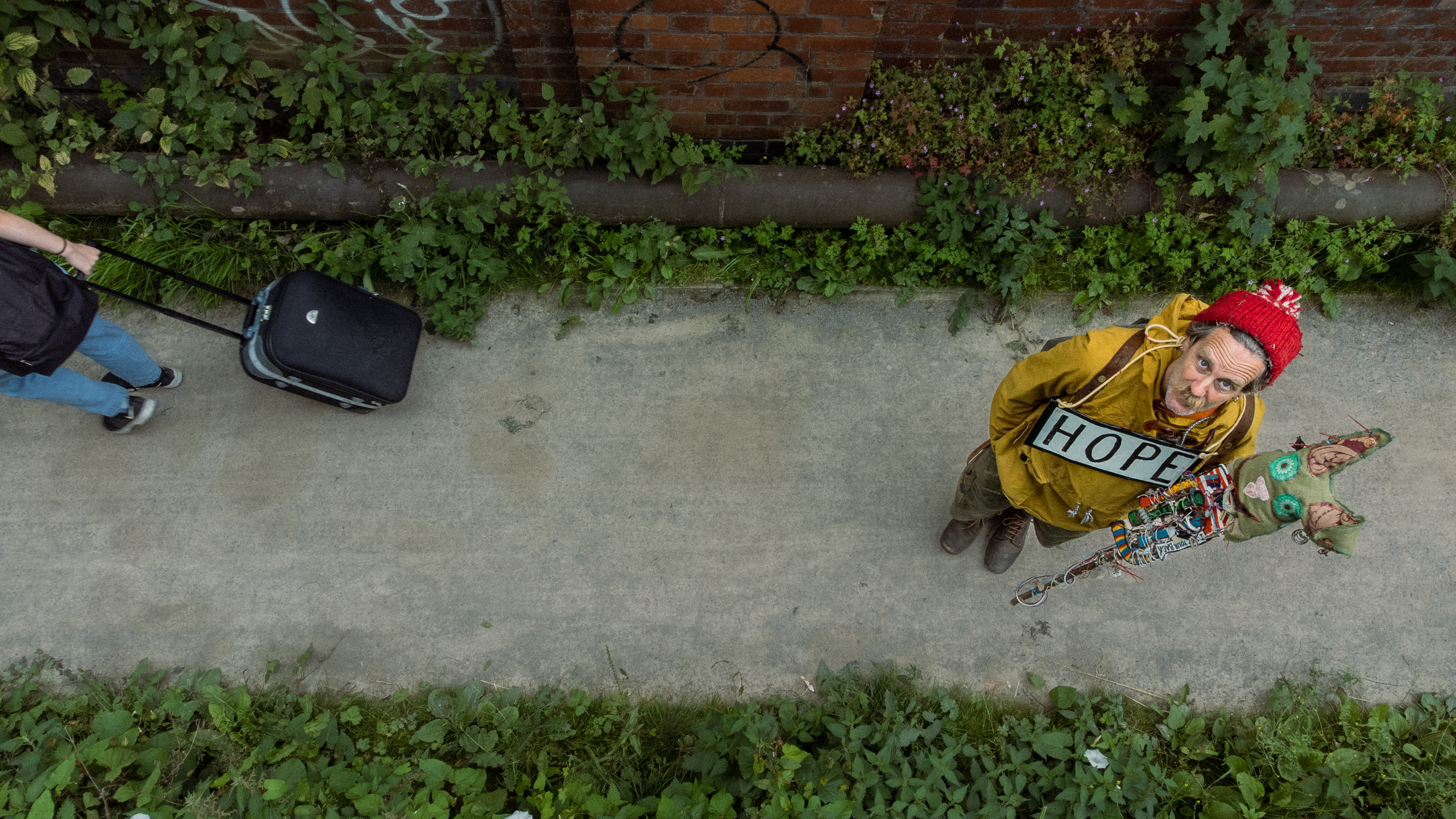 IF WE JUST KEEP GOING, WE WILL GET THERE IN THE END
A brand new 1hr spoken word show. A tiny spark of hope in our difficult times. Or something.
I'm really chuffed to announce the birth of my new show, which was commissioned and supported by the beautiful people at INN CROWD, who specialise in getting spoken-wordy-theatre-y stuff into pubs and other un-theatre-y spaces across the land. I toured my last show with them, went to some out-of-the-way spots, met some lovely folks, and generally had the life-affirming time required to keep on getting out of bed in the mornings.
I've done works-in-progress at Stroud Theatre Festival, and I'm doing a warm-up show in the excellent Clocktower Records in Bridport before a little run of Inn Crowd shows begins, and then let's see where we go.
I'm really wanting to do this one in all kinds of odd spots, particularly living room gigs and the like. I love humans in close proximity. If you want me to come to your living room, drop me a line.
Anyway, here's the blurb that accompanies and heralds this latest lo-fi micro-masterpiece
Acclaimed stand-up poet, storyteller and lo-fi theatremaker Jonny Fluffypunk is back with a brand spanking new show about searching for the hero inside yourself, without involving M-People.
The world's gone nuts. You'll have had your problems; Jonny's had his. He also built himself a shed in lockdown, in which to work out how to get through it. This is the result. Inspired equally by idleness, ancient myths, and Grayson Perry's Art Club, it's part story, part on-theme poetic digression and part community support group.
It's a show about celebrating the glory of small things; about love and strength and finding some sort of meaning. By turns funny, absurd, and touching, there's a pilgrimage across London with a home-made effigy of a dead dog, the tragedy of throwing your childhood home into a skip, and an epiphany beside a derelict canal.
There are poems, bits with a ukulele, opportunities for supported sharing, and who knows what else? The world keeps throwing curveballs; the best-laid plans are thrown into chaos, and Jonny's plans are rarely that. But that's what this show is really all about- fragile humans, and the ways we have to find to cope with it all.
Hopefully we'll catch each other somewhere out there in gigland. Come and say hello.
Keep on keeping on. Love Jonny x
OLDER NEWS
November 12th, 2021
Hello, world. Or tiny corner of it, anyway.
I haven't updated this for blimmin' ages. I'm sorry about that. You'd think what with everything going very slow for someone who makes his living doing spittle-flecked words from his germy mouth on stages in front of intimate audiences, there'd now be plenty of free time to update websites and other sedentary, home-based activities like that. Well, there is and there isn't. There's been children, for starters, and then I've built a lovely corrugated-tin-and-wood-burner studio at the end of the garden. And then lots of lovely arts organisations with brains more fluidly adaptable and organised than mine were able to alter their working practices and come up with remote projects for people like me to be involved in and deliver and earn money to eat. So I've been writing commissioned writings and filming commissioned films and I've had loads and loads of admin to organise with an ADHD brain that cannot organise anything… so, basically, website updating hasn't happened.
But in recent weeks I've performed The End of the Pier Show (see below)  loads of times, including twice at Cheltenham Literature Festival, and in the past few months I've been writing, performing, filming, running psychogeographical walks and a whole load of other publicly-interacting art stuff for Winchester Poetry Festival as their Poet on the High Street for 2021. That's still going on. There's gigs coming up, so be lovely to see your faces around in the future. And my poem for Hot Poets, commissioned for the COP26 Climate Conference, all about resilience and Forest Schools, has been shared thousands of times and viewed over 30000 times. Apparently. I wouldn't know; I'm crap with social media. But big love to Afric at Forest Schools Birmingham, who I collaborated with, and is ace. Here's the film, below (I hope).
More stuff soon. Look after your beautiful selves.
Jonny Fluffypunk: Put a Child by a Tree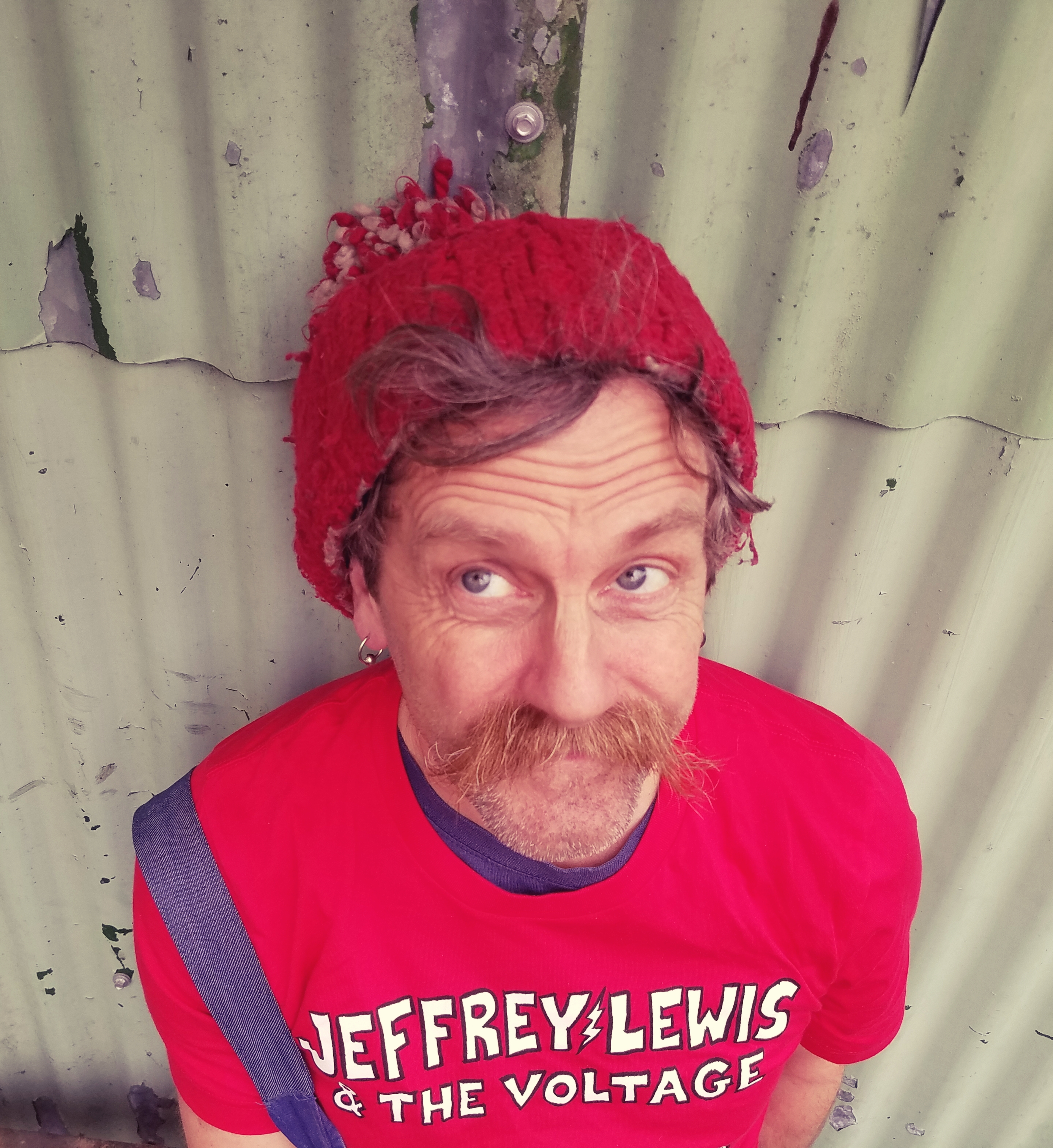 Hello people, bravely holding it together in 2020.
The world is turning to sh*t, but here in artland the mission to create beauty for beauty's sake continues, undimmed.
The End of the Pier Show
The first half of this year is mainly devoted to developing a new show for children.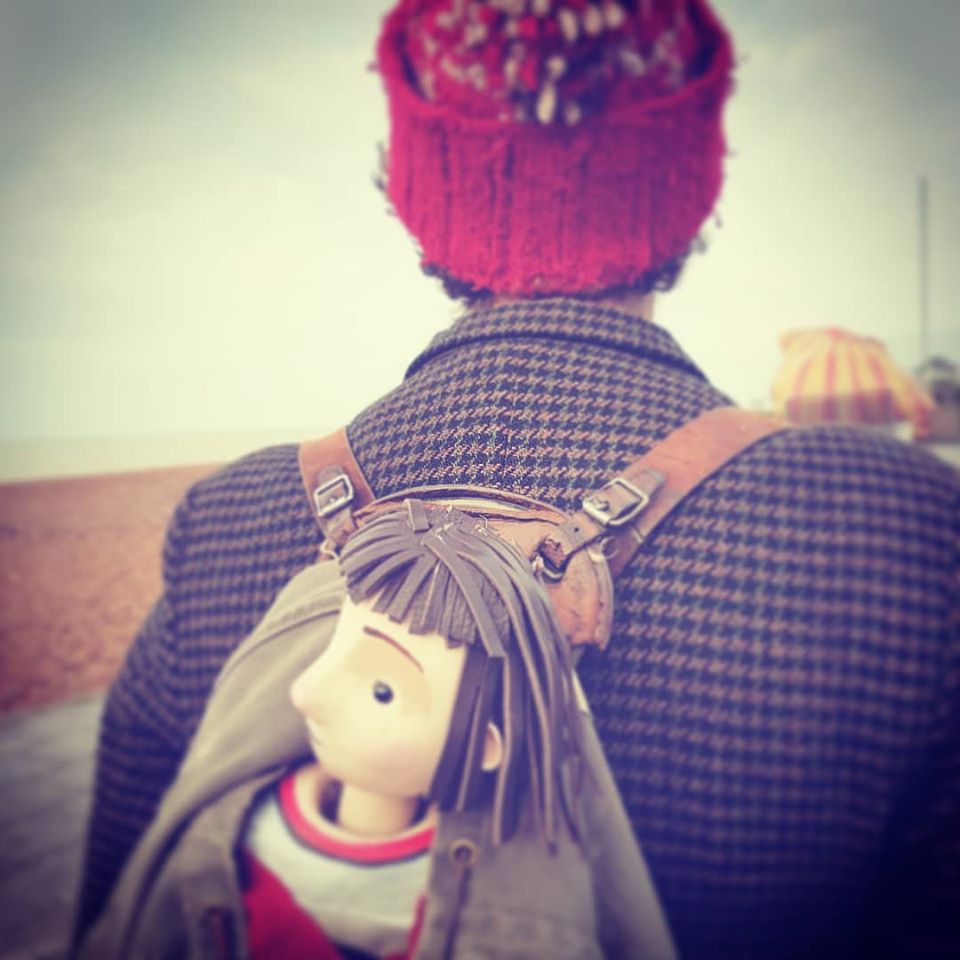 The End of the Pier Show is the story of a handyman on a soon-to-close seaside pier, whose daily routine of sea-swims, beach-litter clearance and catching fish to feed his bed-bound weightlifting mother takes a sharply odd turn when he discovers that the homeless girl who lives under the pier in a sleeping bag and eats pickled eggs is not all she seems. She's all alone after a  traumatic upheaval; he's got nothing on his work to-do list. Can they join forces and save the venerable old wooden seaside institution? And each other?
It's my first show for children, and it's a ramshackle collision of spoken word, theatre, puppetry and lowest-fi music. It's funded by Arts Council England (thanks very much, lottery ticket buyers) and supported by the beautiful powerhouses at Strike a Light in Gloucester. Emma Williams is gently guiding and shaping, Molly Hawkins is designing a lovely quirky set and Bella Lyster has made a puppet I've fallen in love with, and carry round on every household activity, like Hendrix did with his guitar.
There's a work-in-progress gig, where I'll try out some bits, with a kids workshop, too, at Corsham Pound on weds 19th Feb. Then preview dates at the end of March / April. They're on the gig listings.
Test Transmission from the Edge of the World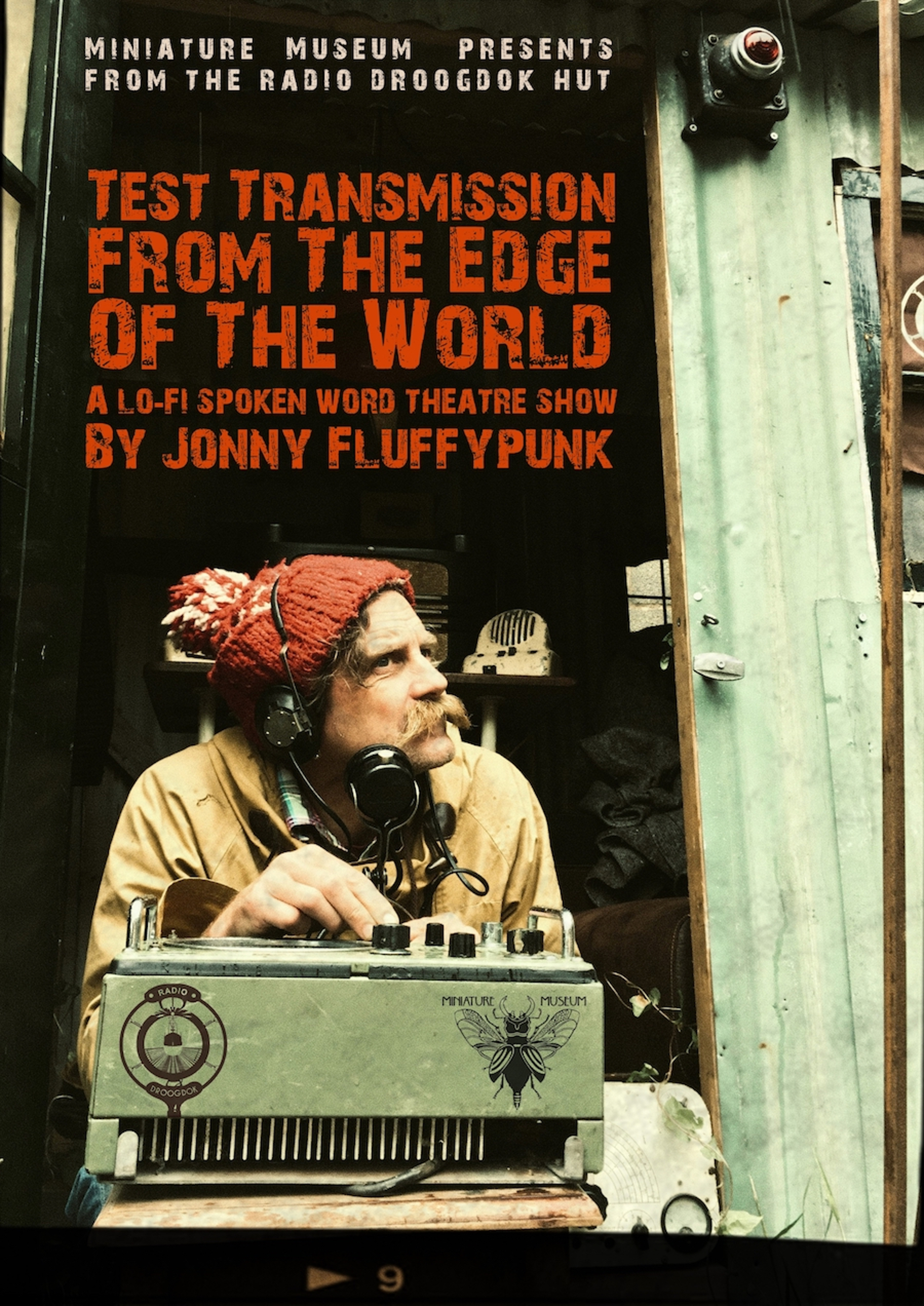 TEST TRANSMISSION: A spoken word theatre show in collaboration with Miniature Museum
Last year I previewed a show at the Stroud Theatre Festival in September; in front of a corrugated tin Radio Hut in the courtyard of the Museum in the Park I delivered a sweet 50 minutes of lo-fi stand-up spoken word storytelling theatre which had the working title of 'Test Transmission From The Edge Of The World', because it sort of was a test. It passed that test, so now it should really get called something else. But I haven't got round to it, so it'll probably stay, and confuse people.  This show is part of an evolving collaboration with UK / Amsterdam based installation artists and archivists Tara Downs and Bart Sabel, who create mad and brilliant stuff under the name of Miniature Museum.
We've now received development funding from Arts Council England, which is brilliant, and means that corrugated tin Radio Hut can be stuffed with ancient radio gear that's hacked and gutted and rigged up to work how we want it to work. The Radio Hut is intended to tour as an installation to all sorts of weird and wonderful spaces, and my Test Transmission show, designed to be performed as part of the installation, will now- thanks to input from ace experts in England and Amsterdam- be developed to be less just words coming out of my face, and more interaction with the wonderful ancient fizzing Bakelite radio technology. A show about radio that gradually BECOMES radio.
It'll be ace and I'm excited about it.
My now-getting-a-bit-old-show, HOW I CAME TO BE WHERE I NEVER WAS, continues to pop up occasionally all over the place, often in the East as part of the INN CROWD.
I'm also in the process of developing a new lo-fi stand-up spoken word storytelling and puppetry show for children called THE END OF THE PIER SHOW, about a caretaker in a soon-to-be-closed-down seaside pier who joins forces with a homeless refugee mermaid who lives underneath it to form the world's first inter-species rock 'n'roll band. Pulling together, transcending their differences, can they capture hearts and minds and save themselves, and the crumbling edifice?
And as well as that, the usual gigs and stuff. Cropping up at festivals all over the summer.
See you in showbiz.
.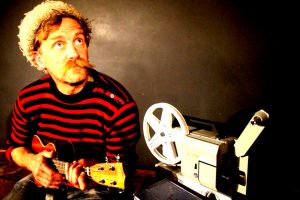 VERY OLD NEWS
I've deleted the old news. If it's not new, it's not news. It's olds. I didn't get Andy to make me a page for olds. Anyway,  yesterday's online news is only fit for wrapping silicon chips in.