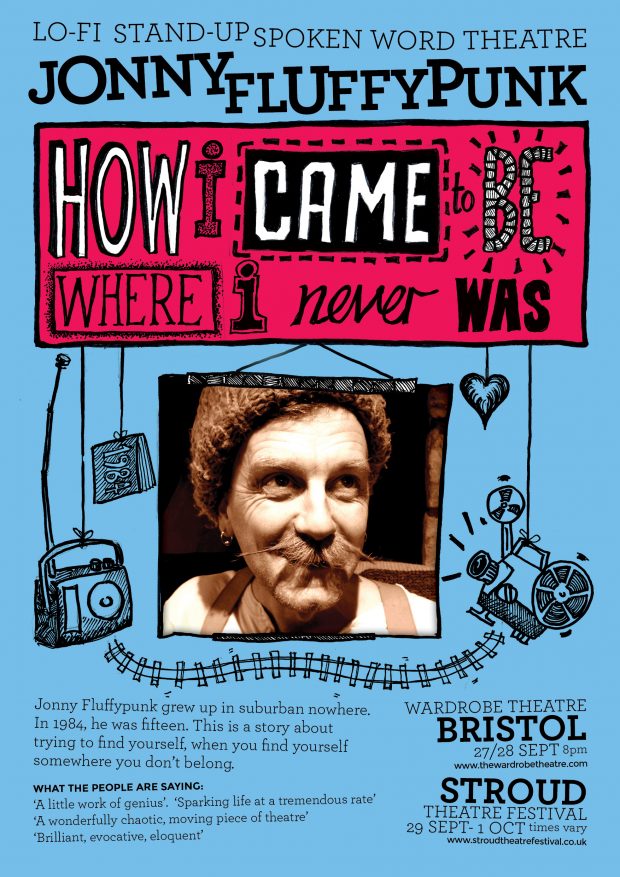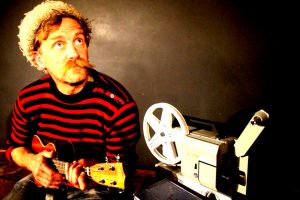 'HOW I CAME TO BE WHERE I NEVER WAS' @ Wardrobe Theatre Bristol 27/28th September 2017
and Stroud Theatre Festival 29/30 Sept and 1st Oct
STOP PRESS!: Now also @ Exeter Bike Shed Theatre 18th September
Well chuffed to announce that I'll be doing my new show, How I Came To Be Where I Never Was, at Bristol's lovely Wardrobe Theatre in the Old Market at the end of September. It's a lovely space, and I'm spending lumps of glorious summer honing this beast, whilst keeping it lo-fi and ramshackle, because I like lo-fi and ramshackle. It's about memory and forgetting and punk rock and John Peel and growing up in the middle of nowhere and the importance of a good record shop. There's trains, too, for those who like trains.  Reception for work-in-progress shows has been wonderfully positive. I'm excited, and I don't usually admit to such base emotions.
And straight after the Wardrobe shows, I'll be doing the show at Stroud Theatre Festival. I'm in the British School (behind Star Anise Cafe) on Friday 29th at 6pm, Saturday 30th at 1.30pm and Sunday Oct 1st at 6.30pm.
And now also at Exeter Bike Shed Theatre Monday 18th September! This is through the lovely people at Apples & Snakes; more details to follow.
Before that, I'm doing gigs (not this show) at Latitude, WOMAD, Port Eliot, Green Gathering and Shambala Festivals so pop by and say hello if you're about. It'd be lovely to see you.
Here the Wardrobe Theatre link:
OLDER NEWS:
'HOW I CAME TO BE WHERE I NEVER WAS' work-in-progress shows AND OTHER STUFF
I've got a few work-in-progress shows coming up, for my new solo 1hr lo-fi stand-up spoken word theatre show. Well, I say 'work-in-progress' because, technically, that's what they are… but that doesn't mean it's me stood there with bits of paper and a half-formed idea, looking lost. Oh no. It's proper, and it's (so the reviewers said) entertaining, and I know the words and I know when to talk and when to be quiet and when to operate musical instruments and other things. It's just that at some point in the future there'll be a few more props and proper publicity and graphics and SOME of the words will be different and you'll probably wonder where that bit you liked- possibly the only bit you really, really liked- you'll wonder where it's gone, and you'll think maybe he's not quite as good as you thought he was, if he can ditch a bit like that. Anyway, the work-in-progress-but-actually-rehearsed-and-good shows are in Painswick and Gloucester and Hereford in March and April and there'll be more added. Especially if the arts council funding comes through. See the GIGS page for more details.
And in March, I'm chuffed to be a featured act performing at the first date of BANG SAID THE GUN's first-ever national tour. Bang Said… is a very magnificent London poetry night that is both raucous and beautiful, as is my co-feature-performer-person JO BELL.
http://avalonuk.com/bang-said-the-gun-to-be-joined-by-host-of-acclaimed-spoken-word-acts-on-tour/
'WINTER WONDERLAND' @ THE GOODS SHED, STROUD SAT 10TH / 17TH & SUN 18TH DEC. 11am-2pm
I'm going to be an installation in the SVA Goods Shed, performing 10 minute intimate shows in a vintage caravan to whoever can fit in, by fairylight. Every hour, on the hour 11am-2pm. And in between those times I'm doing takeaway poetry. For free. Come with an idea of what you want a poem about. Or who you want a poem for. Or just sit and tell me your story and let it give birth to a poem. Then come back a bit later and I'll perform your poem to you. And maybe even type it up but my elderly typewriter is temperamental; we can try to encourage it to comply, though.
Why? Because it's fun to share stuff. And tiny gigs are the best.
There'll be my little suitcase of books to buy, too, but don't feel obliged.
MR FLUFFYPUNK'S PENNY GAFF @SVA XMAS BASH! 17th DEC, 8PM
December's Penny Gaff is part of the SVA Xmas party, which means for your eight quid entry you get not just a jam-packed show featuring hard-livin' London poetry legend SALENA GODDEN, Radio fave and foam-flecked malcontent ELVIS MCGONAGALL, sharp-tongued Welsh wonder CLARE FERGUSON-WALKER, anti-Santa MISERABLE MALCOLM and, er, me, BUT ALSO DJs from JET SET RADIO and SITUATION SOUNDS, live music from JOHN STREET SKA ORCHESTA and MERMAID CHUNKY and loads more. Well, maybe not loads more but a bit more. And all for £8.
'POUNDLAND RIMBAUD' BOOK LAUNCH 25th Novemeber 2016 @ Stroud Valleys Artspace
My new book is out! Well, it's been out for a while, but I've had absolutely no time to promote it. Until now. And anyway, it's been updated with a NEW COVER, so that should technically count towards having a launch now. So I'll be doing a bit of reading from the book- all 150 pages of it (more if you include those blank pages publishers always put in at the beginning and end)- and myself and Jo Leahy and Freya Tate will be playing music, showing films and curating lo-fi cassette mash-ups from the control tower. Cool, huh? And it's FREE to get in. Books are £8. And Christmas is coming, innit? https://www.facebook.com/events/1789036441350609/
BOOKSHOP
I've opened an online bookshop, courtesy of The Big Cartel. You can get both books there. Do please visit it. Don't buy it off Amazon. Please. They are b******s. Support your artists!
http://jonnyfluffypunk.bigcartel.com/