Hello. So, NEW STUFF for summer 2019
JUNE 2019
What's new? Well, last year I previewed the embryonic beginnings of a new show at the Stroud Theatre Festival in September; a sweet 50 minutes of lo-fi stand-up spoken word storytelling theatre which had the working title of 'Test Transmission From The Edge Of The World', because it sort of was a test. But it passed that test, so now it should really get called something else. But I haven't got round to it. It was written as part of an evolving collaboration with UK / Amsterdam based installation artist and archivist Tara Downs, who creates mad stuff with her partner Bart under the name of Miniature Museums. They're in the process of building a corrugated tin radio shack, stuffed with ancient radio gear that's hacked and gutted and rigged up to work how they want it to work. This shack is intended to tour as an installation to all sorts of weird and wonderful spaces, and this new show is designed to be performed as part of the installation.
In last year's theatre festival, the embryonic show all emerged in the form of spoken words from my working human face; we're now waiting for Arts Council money to ensure that my face will interact with stuff coming out of the fizzing Bakelite technology in the shed… It'll be ace and I'm excited about it.
We're having a test launch of the installation at THIS year's Stroud Theatre Festival, where the Radio Hut will be in residence in the courtyard of the Museum In The Park. I'll be doing the reworked show, not off bits of paper, in and around the Radio Hut- or in foyer within spitting distance if it's raining.
I'm also hoping to develop a second radio-themed show less dependent on fast-past clever words and British references, and more dependent on tragic facial expressions, which can be performed abroad when the installation is doing it's instally thing over the water.
My currently existing show, HOW I CAME TO BE WHERE I NEVER WAS, continues to pop up occassionally all over the place, often in the East as part of the INN CROWD.
I'm also in the process of developing a new lo-fi stand-up spoken word storytelling and puppetry show for children called THE END OF THE PIER SHOW, about a caretaker in a soon-to-be-closed-down seaside pier who joins forces with a homeless refugee mermaid who lives underneath it to form the world's first inter-species rock 'n'roll band. Pulling together, transcending their differences, can they capture hearts and minds and save themselves, and the crumbling edifice?
And as well as that, the usual gigs and stuff. Cropping up at festivals all over the summer.
See you in showbiz.
.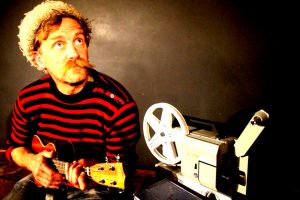 OLD NEWS
I've deleted the old news. If it's not new, it's not news. It's olds. I didn't get Andy to make me a page for olds. Anyway,  yesterday's online news is only fit for wrapping silicon chips in.